HOW TO USE GOLFLiXpro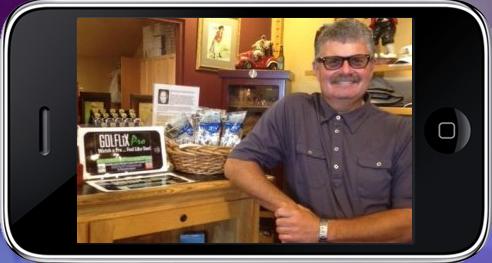 WHERE AND WHEN
A game of golf, even a bit of range practice, is hard to fit into the schedule of our busy lives.So try this! Next time you're waiting for: a train, bus, plane, the slow foursome ahead of you on the fairway, in the car waiting for your spouse to finish shopping, on a 10 minute break at your job, reach for your cell phone, bring up the GOLFLiX App and take a golf lesson while you wait. See, and feel the smoothness of Luke Donald's hitting his driver, absorb the beautiful rhythm of Corey Pavin's full swing motion. These images will be assimilated, stay with, and become part of you when viewed repeatedly. It's like a song you just seem to be able to sing, because you've heard it so many times.
THE RANGE:
Next time you're having a bad range day, and getting more frustrated by the minute. Try this: STOP! Step back, take a few deep breaths. Go to your GOLFLiX Appand watch the beautiful unhurried rhythmical swing of Aaron Baddeley, or maybe the wonderful way that Se Ri Pak turns her shoulders during her swing sequence. After watching the inspiring action and form, with those images still fresh in your mind, go back to hitting balls imitating what you just watched. Now pretend you are Aaron or Se Ri, just as you might have when you were a child. We guarantee this will help you to hit better golf shots. Remember, as children, this is the way we learned how to play all sports ......... by WATCHING AND IMITATING!
JUST FOR FUN:
You're at the "19th hole", or in a restaurant with some friends. The topic is golf. The endless discussion / debates ensue about "How the pros do it ...Freddie keeps his elbow tucked in at the top - the way they all do ! " or "Every pro keeps their head perfectly still during the swing ! both arguments are settled in an instant when you go to the GOLFLiX App http://www.blastapplications.com/apps
This game of golf is not easy an easy one. It's no wonder almost every pro on Tour, still takes lessons. There are no quick fixes, overnight cures, or instant improvement devices that really work that way. It takes time, effort and of course help from a P.G.A. Pro, to see the kind of results that will make your game more enjoyable. The GOLFLiX system is not based on any revolutionary
or radical concepts, rather ironically in this advanced digital age, it is the most primitive of instructional methods. The foundation is simply, "MONKEY SEE, MONKEY DO " or …… VIEW IT andDO IT !
Watch a Pro ... Feel like one!
A golf instructional iPhone / iPad / iTouch App that teaches the golf swing through visualization. Many videos with tips directly from the pros . Repeatedly watching the body movements will enable you to absorb and picture the images in your mind
Blast Applications.com presents the unique new iPhone / iPad / iTouch App called GOLFLiX PRO(GOLFLIXProfessionals) that teaches you the golf swing through the powers of visualization. The technology is new but concept is absolutely primitive ! Through a full library of videos containing the swings and personal tips directly from the PGA & LPGA Pros themselves, the user watches repeatedly the sequence of body movements that create a winning golf swing. After watching over and over, the user begins to assimilate those visual images and can recall them in the minds eye, enabling the viewer to recreate what he or she is visualizing. This is not unlike a song one seems able to sing after listening to repeated play on the radio. The first installment is out now featuring the first 6 of many PGA & LPGA stars who will be participating in this program. Among this first group of Pro Champions are 3 US Open winners, a Hall Of Famer, a PGA Champ, and a fast rising PGA star with the charisma of a rock star. This App also makes a great gift for that certain golfer in the family who seems to have everything such as: The cute animal head covers, The monogrammed balls, The fake 'Greatest' trophy the new 'super long driver' , etc.

Now you can give them something they can really use .... a GOLF SWING !
Watch a Pro ... Feel like one ! http://itunes.apple.com/us/app/golflixprofessionals/id531156841?ls=1&mt=8
GOLFLiX alumni Ernie Els (signed for 10 yrs.) won the British Open with Luke Donald finishing top 5
Ernie Els, previous roster member and continued supporter for the GOLFLiX project won the prestigious British Open with alumus Luke Donald in the top 5




GOLFLiXPro continues to have great finishes in the PGA & LPGA tournaments.Ernie Els won his second British Open (his first one came in 2002) by coming from behind to best young super star Australian golfer Adam Scott.
The classic swings of Ernie and Luke Donald, who placed in the top five, are very much alike in their absolute perfection of tempo, rhythm and form. You can learn so much by simply watching watching these two champion's over and over. Their action will assimilate and enable you to call up that image on the course when you need it. That is the essence, the basic core concept of the GOLFLiX Pro iPhone App. This convenience of watching this imagery anywhere, anytime, and being able to make a deposit in your imagery memory bank will prove invaluable in your pursuit of the ever elusive quest to find one's golf swing.
Imagine daydreaming about golf on a plane, bus or a train, thinking you'd like to just take one more quick look at Luke Donalds perfect finish, or what position his head stays in throughout the entire swing. All you would need to do is open your GOLFLiXPro App on your iPhone - pick the golfer want to view, and watch his swing in the palm of your hand.
One time through the sequence you might watch his left knee bending right during the backswing, then watch and see if his head stays in one place, or actually dips down a bit
during the forward swing. You'll have your answers in no time. http://itunes.apple.com/us/app/golflixprofessionals/id531156841?ls=1&mt=8
GOLFLiX Pro in use for effective golf instruction
One great way to utilize the GOLFLiXPro Application now available in the App store on your iPhone. The one described in this article is a basic one that not only applies to golf instructors as is the focus here. There are many more uses for the App.

There are many effective ways to utilize the GOLFLiXPro App. Yesterday Anthony Rodriguez a PGA Professional implemented the App in his vast
golf instruction program which is located at the Brooklyn Sports Center in Brooklyn New York. This is the largest facility of it's kind in Brooklyn, which by the way is considered the forth largest city in America. A Rod as he is affectionately called, teaches amateurs of all ages with a great focus on children of all ages and abilities. Anthony all uses the latest technology in his instruction including capturing the students video images for analysis. He finds GOLFLiX Pro to be extremely useful in demonstrating the comparison of positions that the Pros get into, to the positions amateurs get to at similar points in the swing. In other words a student watching his own video will notice, with A Rod drawing marker lines on the computer screen, that his head (the student's) seems to come up, or his body rises during the forward (down) swing. A Rod will then show the student Corey Pavin's position at about that same point in the swing. The student notices that Corey Pavin's posture remains almost the same, and even a bit lowered in the downswing. This makes a huge difference in whether the ball is struck well or poorly - giving the student a reason to frown or smile. Watching the videos of great swings over and over on the GOLFLiX App - without having to rewind by the way !!! will ingrain those movements into the students imagery... resulting in many more smiles. http://itunes.apple.com/us/app/golflixprofessionals/id531156841?ls=1&mt=8
Winning, and getting into the Winning Circle
The Seniors British Open was won this weekend by GOLFLiXPro alumnus Fred Couples, and the LPGA's Evian Masters, soon to be a Major, was not won by a member of the GOLFLiX roster, but two GFLiX players Paula Creamer and Se Ri Pak had top ten finishes


A picture is worth a thousand words. Actions speak louder than words. These are two old adages that are still very relevant in any discussion about the quest to find and own the elusive golf swing. More specifically owning one's OWN golf swing. We mere mortal amateurs are so lucky in having champions such as Fred Couples, Paula Creamer and Se Ri Pak to watch and learn from. Fred's incredible languid swing motion that seems like it never ends, and his amazingly smooth tempo, adored by each and every fellow PGA Pro, is a complete golf lesson unto itself. Se Ri 's and Paula championship form is also an inspiration to young female golfers all over the world. The value of having these images available to watch and imitate, in addition to having them all contained within the convenience of a smart phone, has got to be even the envy of Fred,

Paula and Se Ri. Bet they wish they could have studied their idols by simply reaching into their pockets and pressing a button. Such is the gift of GOLFLiXPro.

http://itunes.apple.com/us/app/golflixprofessionals/id531156841?ls=1&mt=8