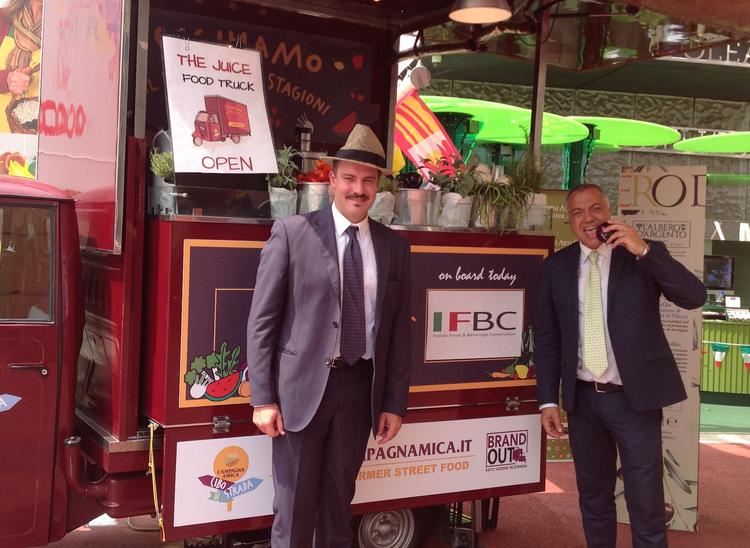 PLAINVIEW, NY--(Marketwired - Jul 24, 2015) - Italian Food & Beverage Corp. (OTC PINK: IFBC) (IFBC) is in the process of filing its consolidated financial results for the period of January 2014 through June 30, 2015, on or before August 15, 2015. We have satisfactorily completed the reverse merger with Blast Applications, Inc. (BLAP), achieved both our financial and operational goals, integrated our management and financial teams, and are on target to meet future expectations in all respects.
In addition to its existing distribution centers in Italy, Austria, Hungary and Singapore, IFBC is proud to announce that it has expanded its wine distribution centers to include the United Kingdom. Moreover, IFBC has expanded its core of business to include the sale of food by way of the circulation of food trucks known as "Ape." We are greatly encouraged by this venture, for the first "Ape" was recently introduced to much acclaim. Please see http://www.expo2015.org/it. At present, we are in negotiations with Campagna Amica to provide up to 3000 "Ape" trucks in each of their locations.
IFBC has entered into an agreement with www.italianhalalfood.net, owned by Videl Web Store S.r.l.s. This company is a renowned purveyor ofHalal food, which is certified Halal byThe HIA -- HalalInternational Authority. Consequently, IFBC will be the first Italian website that specializes in the online sale of Italian Halal certified food products.
Dino Luzzi, CEO, stated that he is extremely pleased by both the operational and financial progress brought about by the merger. He went on to say that the corporate cultures of the two merging entities have dove-tailed in a manner better than expected. "We foresee our future progress reflecting the synergies of our management teams."
About Italian Food & Beverage Corp. (formerly Blast Applications, Inc.)
Italian Food & Beverage Corp. (formerly Blast Applications, Inc.) was a marketer and developer of applications for Android, iPhone®, Twitter® Facebook® and Nokia to monetize a web surfer's dedication to social media sites through direct advertising programs tied to the Company's tools, applications and website -- www.blastapplications.com. Through its acquisition of Italian Food & Beverage Corp., a Nevada corporation and the latter's subsidiaries, it is now in the business of manufacturing, exporting, importing, selling and distributing wine and various food products.
Its website is now http://ifbcorp.com/
Forward Looking Statements
This release contains "forward-looking statements" and information provided by Italian Food & Beverage Corp. (formerly Blast Applications, Inc.), such as online, printed documents, publications or information available via its website. It may contain certain forward-looking statements that involve risks, uncertainties, assumptions and other factors, which, if they do not materialize or prove correct, could cause the Company's results to differ materially from historical results, or those expressed or implied by such forward-looking statements. All statements, other than statements of historical fact, are statements that could be deemed forward-looking statements, including statements containing the words "planned," "expects," "believes," "strategy," "opportunity," "anticipates," and similar words. These statements may also include plans, strategies and objectives of management for future operations; any statements regarding proposed new products, services or developments; any statements regarding future economic conditions or performance; statements of belief; and any statements of assumptions underlying any of the foregoing. There can be no assurance that the negotiations being considered by the letter of intent will be completed.
Contact info:
Italian Food & Beverage Corp.
Info@ifbcorp.com